In the early fall of 2017, Lisa's roof was in trouble. There had been some storms that summer, but there wasn't enough storm damage to qualify for help from insurance. A recently divorced mom of two who lost her job of 15 years due to departmental reorganization, she would ordinarily qualify for help from the state to make the repairs she needed — but a soft spot in her decking was standing in the way from her roof being considered viable for assistance. The money that could have helped cover the roof had to be spent on repairs for her car, so she could get to her new job and her night classes, but without the repairs she was unable to refinance the house.
After seeing a TV commercial, she called White Castle Roofing for an estimate for a repair on the roof — and hoped it wouldn't need a full replacement. What she didn't know was that her sister, Laurie, had already been in touch with us. Because earlier that summer, Laurie had nominated Lisa for the Free Roof Rescue.
A community initiative we began several years ago, the Free Roof Rescue offers the opportunity for our friends and neighbors to nominate themselves or someone they know for a free roof. Every year we donate at least three (and often more) roofs as part of this program to the people in our communities who desperately need one but are unable to afford it. We receive nominations until July 31, at which time a committee of White Castle Roofing employees reads each application and selects the winners based on their needs, their support system, and their roof's condition.
When Lisa contacted us, we had only just selected her as a winner, but had not yet been able to notify her (in fact, that same week, we had called Laurie to let her know, but she hadn't tipped Lisa off yet). Lisa's call gave us the perfect way to surprise her with the good news.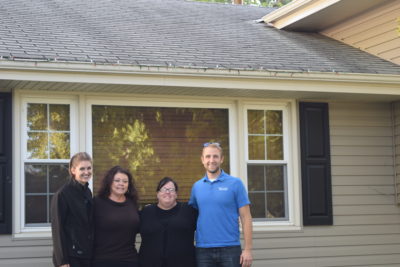 So on a sunny afternoon, Jake and Charissa Hansen from the Omaha office, along with advertising director Kiley Eaton, headed over to Lisa's house — ostensibly so Jake could take a look at the roof and give her an estimate. Instead of providing Lisa with a bid, though, with Laurie and her husband looking on, Jake told Lisa that White Castle Roofing would take care of the soft spot in a little different way: by replacing the entire roof, for free.
Naturally, there was excitement, and tears of joy. "This will take such a huge burden off my shoulders, both financially and mentally," Lisa told us. "I've been waiting two years to refinance to get my payment lower, and now I'll be able to." She and Laurie exchanged some sisterly teasing, but their relationship had us in tears along with them. "She's all I've got left now, since we lost our mom," Lisa said.
"She cares more about everyone else than herself," Laurie said. "She calls me up, and sometimes I can't believe she's asking me if I'm OK, when I know she isn't. And that's why I nominated her, because she really really deserves it, and needs it."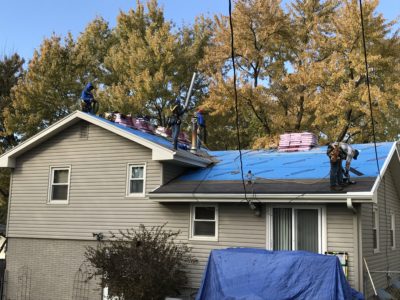 A few weeks later, the roof was complete — giving Lisa some peace of mind, and one less burden to bear. We got to catch up with Lisa, once the initial excitement had worn off and the roof had been replaced for a couple months, to see how things are going.
"My life is still pretty hectic — I tend to pile too much on my plate," Lisa said. "But that's one thing I don't have to worry about. I like to look at it. I like to drive away and look at it," she added, giggling.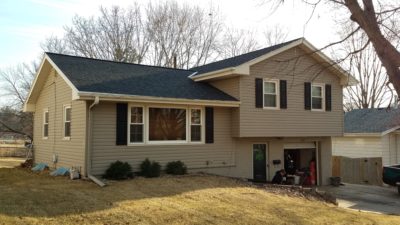 While we know it's only a roof, and there are still hardships to be faced, it's still so great to be able to provide a little peace of mind and a little boost to keep on going. "It's a common saying for a reason, that you want to have a good, solid roof over your head, to keep your belongings and your family safe," Lisa pointed out. "Now I'm focused on raising my son, finishing my college degree, and just trying to take the time to enjoy my family."
It's truly our pleasure to have gotten to know Lisa, see her resiliency and determination, and be able to give back, just a little bit, to an incredibly deserving family who helps make our community a richer, more loving, and more inspiring place to be.
And in case you missed it — here's the TV commercial, as well as extended radio spot, featuring Lisa!
SaveSaveSaveSave
SaveSave
SaveSave