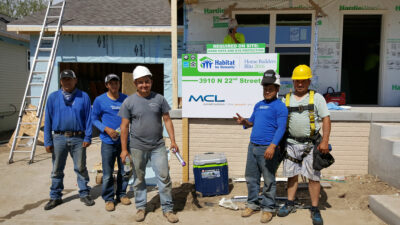 Community initiatives play a pivotal role in fostering social cohesion and addressing pressing issues. Collaborating with charities and nonprofits amplifies the impact of these efforts. By partnering with organizations dedicated to various causes, such as education, healthcare, poverty alleviation, and environmental conservation, communities can channel resources, expertise, and manpower toward meaningful projects. Whether it's organizing food drives, volunteering at shelters, or supporting educational programs, these collaborations empower individuals and groups to make a tangible difference. Moreover, the sense of purpose and unity that emerges from such initiatives strengthens the bonds within the community, creating a more compassionate and resilient society.
The Grand Giveaway is a way for us to say thanks to our customers and give back the local community. Each month during the primary roofing season, we'll select three customers at random who have paid in full to receive a $500 rebate on their roof. We will then donate an additional $500 to a charity partner of their choice. Since 2011, we've given over $1,000,000 to local charities making a difference. It's our pleasure to show how grateful we are for our community, and the people who make it great.
SaveSaveSaveSaveSaveSaveSaveSave
We want to lend a hand to those in our community that need it the most. Every year, we provide a free roof to three households facing very difficult circumstances and desperately in need of a new roof.
If you or someone you know needs a new roof, but can't afford it due to extremely difficult circumstances, please apply for our Free Roof Rescue program! Deadline is June 1 each year.  Applications received after this deadline will be considered the following year.
SaveSaveSaveSaveSaveSave SaveSave

Habitat for Humanity is one of the best charities around, and we're proud to be involved with this amazing organization. For the last few years, we've supplied at least two roofs to the annual Habitat for Humanity Builders Blitz event in Omaha, which transforms an entire city block in a week. We also provided the roof for Habitat for Humanity of Lincoln/Lancaster County's Build #150 in 2017, the much-celebrated 150th home built in Lincoln.
If you'd like to join us in supporting Habitat for Humanity, click here to see the opportunities in Omaha, NE.
SaveSave SaveSaveSaveSave SaveSave