If you've been following us on social media, you know that this year, we were able to complete four Free Roof Rescue homes, as well as a few homes for Habitat for Humanity. It's truly our pleasure to be able to provide these services — as we like to say, we believe we are blessed to be a blessing. And the people we've gotten to know through these projects are incredible. They are amazing, strong, and resilient people. They are inspiring.
One such new friend we've made is Nina, one of the recipients of a Free Roof Rescue roof. Nina is an incredibly gifted writer, so rather than tell her story for her, we asked her to share her experience, in her own words, and that is what follows. Thank you to Nina, and to each of our customers throughout the year that put us in a position to pay forward just a little of what they've given us.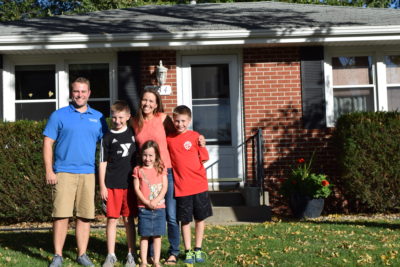 ---
The day God pulled out all the stops…
Did you know that… WE WON A FREE ROOF?!
Doesn't this only happen on TV? How is it that they picked us?! It's slowly setting in and each hammer on the rooftop is driving home the reality that we have been cared for in crazy, ridiculous ways. Five years ago I remember wondering, "How in the world is this going to work out?" Single motherhood, working part time, home schooling three children… But seeing how this was clearly what I was called to do, I moved forward and watched expectantly to see what the future would hold and how God would take care of us. This was truly the only way things would work out and work out well.
We've had our challenges. Our cute little house's shingles were organic so instead of showing blunt force impact of hail like all the neighbors' shingles, they simply disintegrated. To no avail, there were two years of "discussions" with my former insurance company.
Another challenge is, our family has been in open litigation for over a year now. I try not to talk about it, but this has taken priority, not the leaking roof. Court is not fun and it is very expensive. We are so thankful for those who help and protect, but it's been long. Of the many Post-it notes on the kitchen cupboards there's one that reads, "God's work done in God's way never lacks God's supply." We've had to do hard things and He has sustained. We've lived simply, worked hard, walked by faith, and seen God work in amazing ways on our behalf. While uncomfortable, it's perhaps a painful grace to be forced into a corner and, when no scheming of man will provide a way out, God steps in and saves the day. This has been proven true for us.
When insurance did not come through, God knew I had $500 for a deductible, not $6,500. White Castle came over to our home recently in the afternoon to discuss what I thought was my payment plan. I still find it hard to believe, but before handing the contract to me, to my amazement and with my three children watching, it was shredded before our eyes!
More hammering. I've kept the little pieces that were shredded in our living room as it is a tangible reminder of this company's incredible kindness to us, from the roofing specialist Dustin, to the crew, to the manager, and notably, the owners. I keep thinking, "How and why us?" Sometimes when experiencing ongoing hardship, you learn to refrain from immediate reaction. You wait, assess, try to view things objectively, pray, think of a solution and move forward. Riding a never-ending roller coaster of substantial highs and lows is not compatible with life so these survival mechanisms set in. (And I even like roller coasters!) After fully processing and looking things from the top to the bottom, I have to say, only humble gratitude, thankfulness, and wonder fill my heart. God out did Himself!
Thank you White Castle Roofing! Thank you incredible staff and crew! Your kindness has left us speechless and has truly inspired me to look forward to giving in the ways that we can to pass on kindness and blessing to others.
Psalm 126:3  The Lord has done great things for us, and we are filled with joy!
SaveSave
SaveSave