Respect is our third core value at White Castle Roofing, and we don't take it lightly! A business that doesn't show respect can't expect to be respected, and we want to be a name you can recommend both because of the work we do and the way we make you feel as a customer or team member.
It's a vulnerable position, to have to call someone to your home to take care of it, especially when you're not talking about a quick, inexpensive fix. A roof literally protects everything in your home – your possessions as well as your family. And it's not cheap to repair or replace it! So when we receive a call or an estimate request, we recognize the honor that comes with that, to be invited into a home to take care of it. We'll treat it like our own, and your family like ours, because we see it as a privilege to have been on the receiving end of the phone call. You trust us, and you deserve our respect in return.
From your first interaction with our team, we want you to feel wanted and appreciated. Your roofing specialist or repair specialist should be timely with a home visit or estimate, because your time is valuable, and should explain things kindly and thoroughly. The crew who completes the project should take good care of your property. And the inspection that follows should be detailed and ensure that each task was completed well. Basically: we want to leave you feeling like royalty. (After all, you ARE working with the Castle…)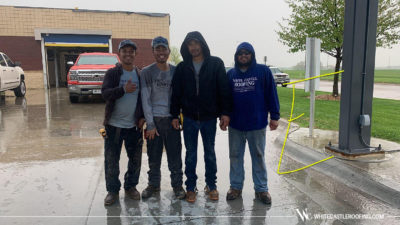 Our focus on respect reaches internally, too, to our own team. We believe that each employee is a part of our WC family. While our roles may be different – some answer phones, some issue invoices, some repair roofs or gutters, and some replace them – we're a part of the same body. And a body needs all its parts to operate at its best!
So when it comes to our co-workers, we believe everyone is important, regardless of function, because we need each person doing their job in order for the company as a whole to succeed. Therefore, each member of our team is to be treated with the same respect, whether they climb ladders and replace shingles or spend the day in a comfy office chair. We need both, and everyone in between. We want our employees to love coming to work because it's a time they can spend feeling valuable while contributing to something great.
Respect is ingrained in our culture, because we believe there is value in every contribution from our team and every call from a customer. We recognize that our customers and team members alike are all integral to our success as a company. We seek to be professional, constructive, and positive in every interaction. And we will treat everyone as important, no matter their role.