Omaha is primed for some March Madness this weekend, as the CenturyLink Center will serve as a host site for the NCAA Men's Basketball Sweet 16. We do love our basketball at White Castle Roofing — but for us, the most exciting hoops of the season actually took place just a couple weeks ago!
White Castle Roofing has been one of the contractor partners for Habitat for Humanity's annual Builders Blitz for a few years now — you can read more about that here and here. We absolutely love getting to be a part of that event (and if you haven't participated before, consider this your invitation to join us there in 2018!). But we found ourselves asking how we could do a little more…and that's when we made some new friends: the Omaha Mavs men's and women's basketball teams.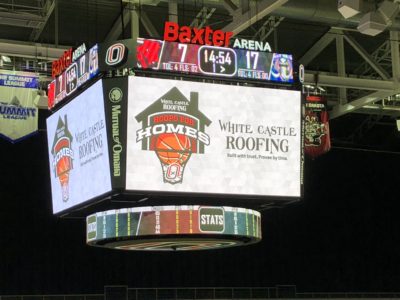 We first partnered up with the Mavs for the 2016-17 season on the Hoops for Homes project, the brainchild of Riley Courtright and his team with the University of Nebraska Omaha Athletic Department. The idea was simple: for every three-pointer the men's and women's basketball teams make at Baxter Arena, we would donate $10 in roofing services to Habitat for Humanity's Builders Blitz. It was a win-win-win — fans would cheer on the Mavs, who would be sponsored by White Castle Roofing; White Castle would get the awesome benefits of partnering with a hometown sports team; and Habitat for Humanity would get some great publicity and roofing services!
In our first year of the partnership, the Mavs men's team caught fire, even beating NCAA Tournament participant and Big Ten stalwart Iowa on the road! They fell in the Summit League championship to South Dakota State — just a few points shy of their first-ever NCAA Tournament. The women were just as hot from the line while finishing the season with a winning record and reaching the Summit League Championship semifinals. In total, the teams hit 256 three-pointers for the season on their home court — 125 for the men, and 131 for the women.

This year, the injury bug hit the team, but that didn't stop the fun at Baxter Arena. The men's team achieved a 8-4 home record, including a record-setting sellout crowd of more than 4,000 on hand to see the Mavs beat conference foe Fort Wayne in February on 90s Night. The women's team also earned an 8-6 record at Baxter Arena while averaging more than 1,100 fans per game. All total, the teams hit 199 three-pointers at home — 94 for the women (including a season-high 12 against Graceland) and 105 for the men.
Of course, the best part of the whole Hoops for Homes partnership is the benefit of helping Habitat for Humanity of Omaha make a difference in our community, and raising awareness of the amazing things they do. We were able to celebrate the season all together at the Mavs game against Oral Roberts, when we were able to do an on-court salute to the project at halftime with Riley, as well as Emily Lowndes, a development officer for Habitat for Humanity.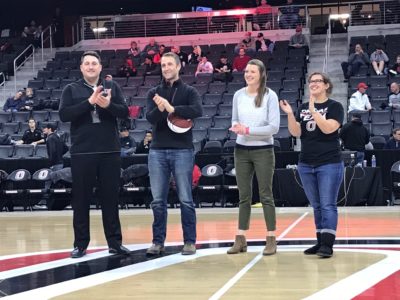 After the game, Emily perfectly recapped why we're so proud to work with these two awesome groups: the end goal of bringing a positive change to our neighbors in Omaha. "Habitat for Humanity of Omaha is proud to partner with local businesses that focus on giving back to our community," she said.  "Thanks to White Castle Roofing and the UNO Mavericks basketball teams, we are able to put a roof over two families' heads during our annual week-long Builders Blitz in June. Together, we are building strength, stability and self-reliance through improved shelter right here in Omaha. We love the Hoops for Homes campaign!"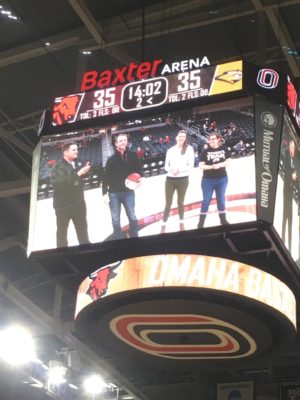 Want to join us at the Builders Blitz in June? Volunteer here! You can also keep an eye on the Omaha Mavs ticket office for their awesome season ticket packages for the 2018-19 season and help us ROOF for the home team!
SaveSave