Businesses are always looking for ways to differentiate themselves, both for consumers and for employees they hire or recruit. Benefits plans, corporate lunches, professional development options…the list goes on. One of the best investments a company can make is in its employees' satisfaction — as business standout Disney Parks and Resorts says, "Our front line is our bottom line."
But this isn't a post about human resources. It's about roofing.
Commercial building owners would be wise to keep an eye on business trends, and one such trend is that of community spaces on the roof. It isn't just in big urban centers anymore — even in cities with plenty of ground-level green space, rooftop patios and gardens are one of the hottest trends in architecture.
Businesses are often seeking out building properties — or creating them in already-owned locations — that have the ability to offer something a little extra for their employees. Why just have an EPDM or TPO roof when you can offer an awesome patio with views of the city, or a garden to take a little stroll at lunch? As such, savvy property owners are adding these trendy new amenities to bring in better rental rates and stand out in the market — because businesses are looking to do exactly the same with their employees.

Beyond just trendy aesthetics, too, there are great reasons to turn your roof into a gathering space. Whether as a garden or a patio space, adding pavers or landscaping can extend the rooftop life expectancy by protecting the membrane from UV deterioration, weather elements, and other debris. Additionally, by installing pavers or a garden, you can provide great insulation from heat, cold, and noise for the building, which can cut down on energy costs and even contribute toward your LEED certification.
And it's easier than you think! White Castle Roofing works with great suppliers to allow us to do just about anything you can dream up. Want a gorgeous rooftop break space? Done — and here's a local example!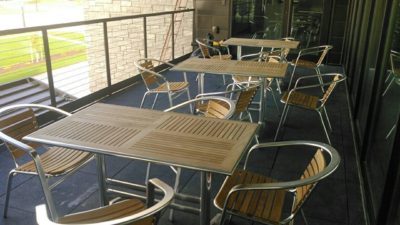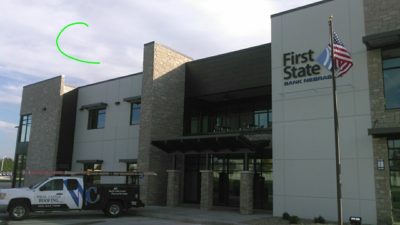 Or maybe you want a garden. We can help custom-design what you have in mind, using a super-simple GreenGrid system with pre-planted modules suitable for our climate to make installation and maintenance a snap.
Staying on top of the trend means having people stay on top of the roof, so make it somewhere they want to go. It's a smart business decision to keep your building or company competing in the commercial marketplace. Want to learn more? Just give us a call or request an estimate online!