Spring is finally here! Baseball is back, we've swapped our snowboots for fun puddle-stomping galoshes (knock on wood!), and put a new full propane tank on the grill to get ready. It's about time!
For a lot of our neighbors around here, spring also means real estate season — selling homes, moving, and settling in to a new space. For others, it's a time to freshen up their home's look for another year in the neighborhood. Whether you're looking to sell your home, or just want to give it a little love, here are some quick, easy, and cheap ways to up your curb appeal.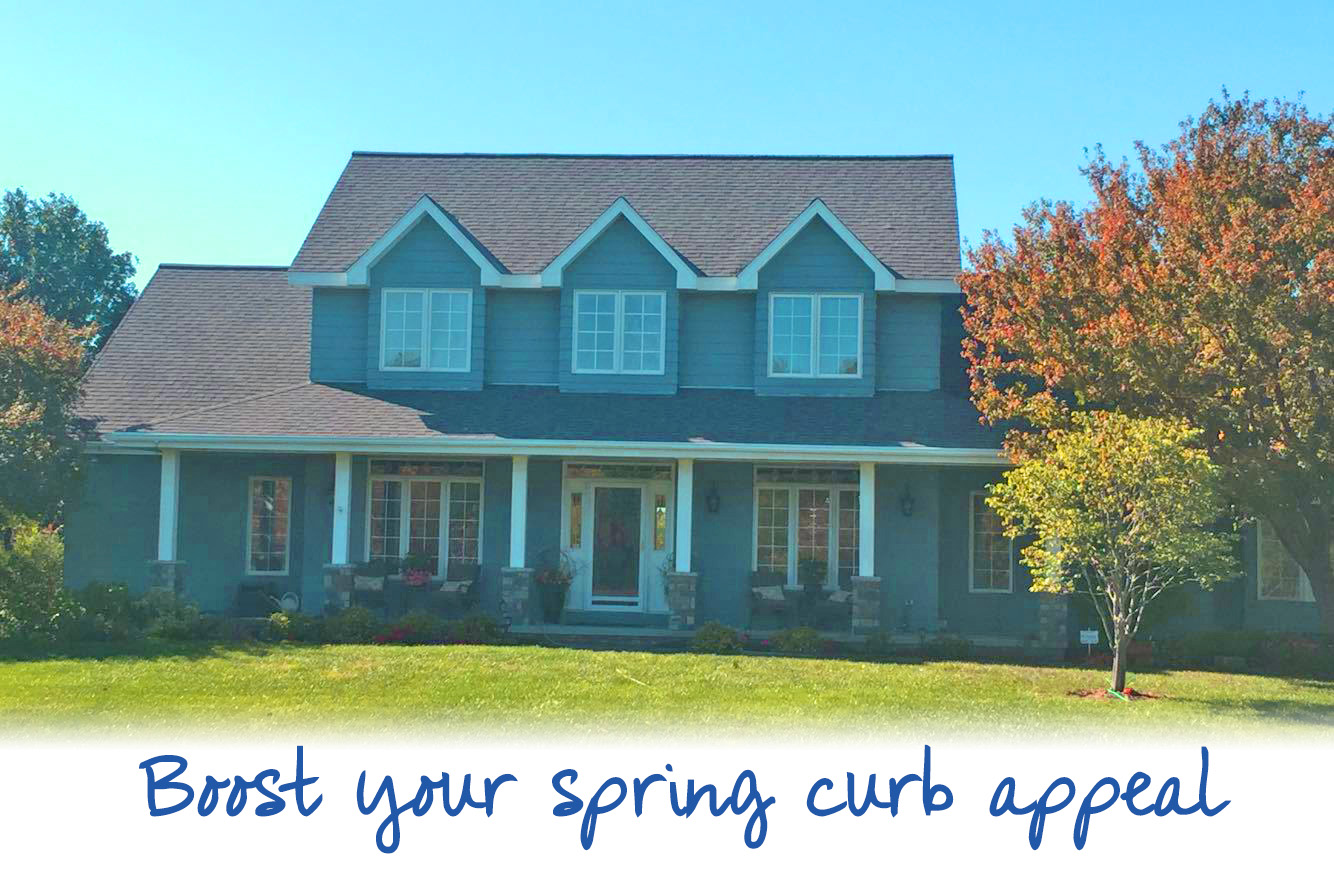 Give your house a good washing. It's amazing how much a simple cleaning can improve a home's appearance. Take a look at our Spring Cleaning Checklist for an afternoon's agenda, or even just take a few hours to pressure wash your driveway, sidewalks, windows, garage door and siding (if you don't have one, borrow one from a friend or rent one for the day from a home improvement store like Home Depot). Just make sure you use the correct settings for each area you clean.
Take a good look at your roof, using binoculars if necessary. If you spot any crumbling, curling, or missing shingles, give us a call — it's often pretty simple and inexpensive for us to do a quick repair, or let you know if you might have a problem that needs more attention (it's always cheaper and easier to take care of a problem BEFORE it becomes one!). If you're looking to sell your home, consider a full roof inspection too — we can take care of any problems, and give you a full report for your realtor or buyer.
Touch up your house's trimmings. Maybe consider a new, fresh color for your front door or shutters and trim. If you don't want to paint, you can just scout out craft fairs and farmer's markets for a fun new door hanger — or find some easy DIY guides and make your own! This can be a fun activity with the kids, grandkids, or girlfriends, too — have a crafting night over a glass of wine (or cookies and milk) and make a few for the upcoming months!
Swap your house numbers or light fixtures. Matching metals can give your home a coordinated look, and can be an easy, cost-efficient way to give the whole exterior a fresh upgrade. Find light fixtures with the same mounting as your old ones to keep it easy. While you're at it, look for some fun solar lights to line your walkway or yard — these are literally only a couple dollars, but serve the dual purpose of safety and visual appeal.
Add some plants! Window boxes or groups of pots on your porch with some pretty little annuals can give a splash of color — just make sure you keep them watered! Fragrant flowers like roses or lavender can give your yard an inviting aroma as well as a gorgeous look. You might even consider a pot or two of fresh herbs, like basil or rosemary, that are easy to maintain and freshen your dinner menu too! Don't just focus on planting at your door — consider lining the outside of your fence or the grass between the sidewalk and street with some pretty perennials to make your yard appear larger. And for heaven's sake, mow your lawn!
Hang out in your yard. Add a bench or a few adirondack chairs, grab a glass of iced tea or a cold beer, and head outside. A nice storage bench can make a good hiding spot for sidewalk chalk or bubbles for your kids to play with, or invite the neighbors over for a game of hopscotch or foursquare in the driveway (adults, kids, whoever!). A friendly neighborhood is a premium luxury — but the memories you can make with the people around you are priceless. Enjoy them, and enjoy the new season!