March Madness is almost here! And no, we aren't talking about roofing this time…we really do mean basketball. This is the month when anything can happen!
At White Castle Roofing, we've been following the basketball season a little more closely this year, thanks to our new partnership with the University of Nebraska – Omaha Mavericks in the Hoops for Homes project! This season, for every three-pointer scored by the Mavs men's or women's basketball teams at Baxter Arena, we're donating $10 in roofing services to Habitat for Humanity of Omaha. Cheering for the home team — to build a home — was never so fun!
This past Saturday, Jake and Charissa Hansen from our Omaha office joined Riley Courtright from the Mavericks' marketing team and Meggan Thomas, Development Officer for Habitat for Humanity of Omaha at the Mav's men's basketball team's senior night. In addition to taking in an INCREDIBLE win over North Dakota State, we had the chance to salute Habitat for Humanity of Omaha and the Mavs' efforts this season. (And what a night for us to be there…the guys hit 15 treys in a single game!)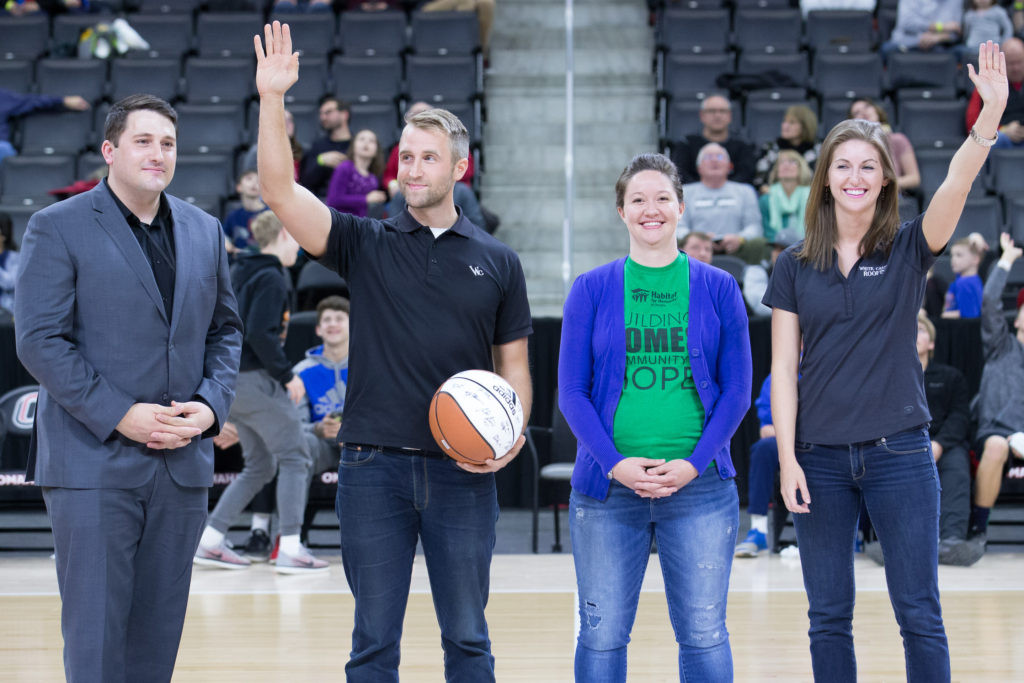 As a result of this partnership, White Castle Roofing is pleased to donate $1,250 for the men's 125 three-pointers in home games, and $1,310 for the women's three-pointers, for a total of $2,560 in roofing services donated to Habitat for Humanity of Omaha. This has been one of the most fun partnerships we've been able to take part in — is there anything not to love about using basketball to help meet the need for a home?!
So as the Mavs move on to the Summit League Championship Tournament this weekend in Sioux Falls — the women play South Dakota on Sunday at noon, while the men will take on Fort Wayne later that evening at 8:30 p.m. (with a live webstream available for both games on ESPN3!) — we hope you'll join us in cheering on both teams, and next season maybe even take in a game with us at Baxter Arena! They're a ton of fun for the whole family, and you can cheer extra-loud for every three-pointer, knowing it's helping support an awesome cause. If basketball isn't as much your cup of tea, you can still check out Habitat for Humanity's volunteer page for opportunities to help us put that donation to work and get involved with a build or volunteer in another area.
Thanks for a fun season — and here's to March Madness! GO MAVS!