At White Castle Roofing, we install a LOT of shingles. Last year, we worked on more than 1,500 roofs, many of which were residential homes — which means we put close to a million shingles over our friends' and neighbors' heads in 2015. (Figuring that out took a few calculators, a bunch of fingers, and some incredulous looks. But it's cool to know.)
This year, as we gear up for another season of roofing, we're hoping to use this blog space to help answer some questions about who we are and what we do. We love that we work with roofing experts just as much as the folks who know a roof goes on top of their house but not much else, and our team of roofing specialists can work with anyone, no matter their knowledge level, to get the right roof (and accessories) selected.
In the meantime, one of the questions we get asked – often – is what the difference is in the shingles we install on a house. While we can do just about anything for our customers, the shingles we install generally fall into a few basic categories that you might see on your roofing proposal: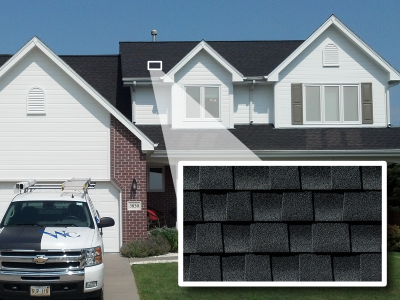 Standard Architectural Shingle: The type of shingle we most commonly install, these shingles start with a base mat made out of fiberglass. The shingle tabs, of varying sizes, are attached to this mat in layers, which creates a dimensional appearance that mimics traditional shakes. They're made of asphalt and come in a wide range of colors, and thanks to their non-conforming shingle tab layers, they do a great job of hiding imperfections that naturally come with age. These tend to weigh nearly 50% more, hold up better in wind, and have a longer lifespan than three-tab shingles.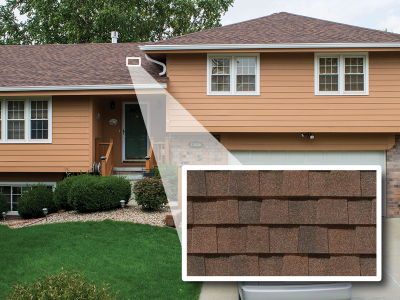 Class 4 Impact Resistant Shingle: The standard architectural shingle, kicked up a notch! These shingles are subjected to a Class 4 UL2218 Impact Resistance test, which simulates hailstorms by dropping steel balls onto a shingle. To earn this rating, the back of the shingle can show no evidence of cracking or tearing after the test, which may be present on a standard shingle. While these shingles may cost more initially, many homeowner insurance policies will include a discount for installing impact resistant shingles.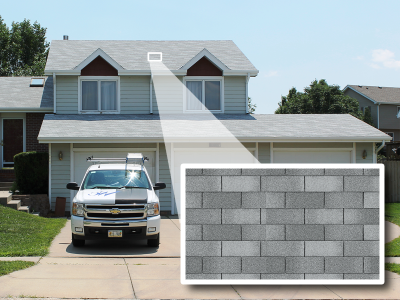 Three-Tab Shingle: The base style of shingles we install, these run in flat, even rows and present a uniform appearance on a roof. They come in several shades to complement any home color. Three-tab shingles generally cost less than a standard architectural shingle, but tend to need replacement sooner.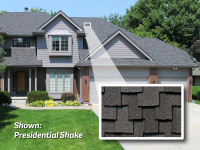 Designer Shingle: For homes that need something a little more specific, we have several shingle options to suit your style. Live in a stately old-world home? We have several traditional slate shingles. Is it more of a southwest-style house? How about a metal tile roof? Maybe it's a colonial cottage…try a presidential shake. If you have something in mind, or even if you want something a little outside-the-box, definitely talk to one of our roofing specialists about some different options to transform the look of your home.
---
If you have a question that isn't covered on the website, we'd love to hear from you! We'll get you an answer, of course, but it may become a blog post, to help get that information out without being asked next time. Thanks for reading!